Dry Fruit Ladoo : An Instant Immunity Booster
Ingredients:-
3 tablespoon raisins, 1 tbsp ghee, 1 cup dateless seeds, ¼ cup pistachios, ¼ cup cashew nuts, ½ tsp cardamom powder, ¼ cup almonds
Steps:-
Prepare a ground mixture with the help of a mixer grinder machine of the ingredients mentioned above, except for ghee.

Add ghee on low-flame gas and roast the ground mixture until its colour gets slightly reddish.

Prepare hot laddoos of this blended mixture, cool them, and serve them on a plate.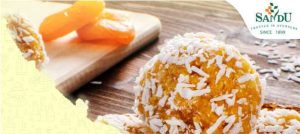 Benefits:-
Dry fruits contain rich amounts of antioxidants along with healthy fats. 

Raisins are a good source of soluble fiber, helpful for the digestive system.

Cashew nuts contain phosphorus, which helps in the development of bones and teeth.

Pistachios contain potassium. 

Almond is a low glycemic food with a rich source of Vitamin E. 

Ghee is a shelf-stable dairy product and has natural antioxidant contents. Its benefits include being cool in nature, capable of increasing mental power and physical appearance, and has the ability to cure ulcers and eye diseases. 

Thus, consuming  Dry Fruit Ladoos keeps you mentally and physically fit all year long, , especially in the monsoons.