Our Ancient Ayurvedic books are the richest source of health wisdom; our seers always maintained that this wisdom will remain valid eternally, it does'nt have the expiry date. This is so true for: मातुरेव पिबेत्स्तन्यं तत्परं देहवृद्धये। This simple Sanskrit line means that mother's milk is the best for infant's growth and development and therefore, breastfeeding should be promoted. It is as simple as that because it is the MOTHER NATURE'S gift.
AND NOW WE HAVE THE MODERN PROOF FOR THIS ANCIENT FACT. IT SO HAPPENED THAT THE SCIENTISTS NOTICED REMARKABLY HIGH LEVELS OF A CERTAIN MOLECULE IN INFANT STOOL SAMPLES. THIS PARTICULAR MOLECULE COULD BE THE KEY IN OUR UNDERSTANDING OF HOW GUT MICROBES HELP STRENGTHENING BREASTFED CHILDREN'S IMMUNE SYSTEM.
Besides, nutrients like water, carbohydrates, protiens, fats, vitamins and minerals, mother's milk contains certain bioactives and commensal bacteria as shown in the figure. It seems that, the gut of breasfed babies do have certain microbes which contribute to the beneficial effects of mother's milk.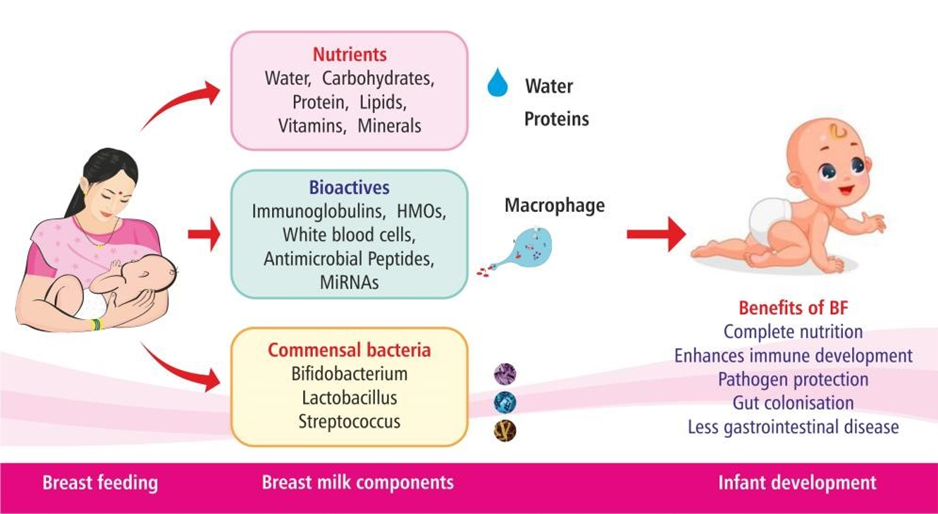 THE LATEST RESEARCH REVEALS HOW GUT MICROBES MAY CONTRIBUTE TO THE BENEFICIAL EFFECTS OF BREASTFEEDING. WE KNEW THAT BREASTFED INFANT'S GUT HARBOURS CERTAIN GUT BACTERIA WHICH ARE KNOWN AS BIFIDOBACTERIA. HOW DO THESE BACTERIA ARE BENEFICIAL, THAT WE KNOW NOW. A NEW STUDY HAS SHOWN THAT THE BIFIDOBACTERIA, WHICH UTILIZE COMPONENTS OF BREASTMILK TO GROW IN THE GUT OF INFANTS, CONTAIN A PARTICULAR ENZYME. THIS ENZYME ENABLES THE BACTERIA TO PRODUCE SMALL MOLECULES THAT ARE BELIEVED TO HAVE A BENEFICIAL EFFECT ON THE IMMUNE SYSTEM. THIS RESEARCH HAS BEEN PUBLISHED IN NATURE MICROBIOLOGY.
The studied bifidobacteria utilize certain carbohydrates (human milk oligosaccharides, HMOs) in breastmilk to grow in the gut where they transform aromatic amino acids (Proteins, which are also found in breastmilk) into aromatic lactic acids. The production of these aromatic lactic acids in the gut probably has a beneficial effect on the infants' immune system.
Bifidobacteria do play a main role during this time to digest the healthy sugars in breast milk that are important for babies' growth. In fact, breastfedd babies do have much higher levels of these beneficial bacteria in their intestines than those who are bottle-fed. Bifidobacteria control the immune system and keep the gut wall healthy in infants, which can help prevent infections.
Besides the health effects in infants, as a bonus, mother gets following benefits of breastfeeding!
l Breastfeeding helps mother to lose body weight after delivery.
l It releases the hormone oxytocin, which helps uterus return to its pre-pregnancy size and may reduce uterine bleeding after birth.
l Breastfeeding also lowers risk of breast and ovarian cancer.
l It may lower risk of osteoporosis, too.
l It is indeed a bliss to enjoy the company of the baby. Bonding does happen.
l And on a lighter note, breastfeeding helps you save time and money, no need to buy formula milk, bottles etc.
So MOTHER NATURE does teach us to live symbiotically with the MICROBIOME, right from the birth!!