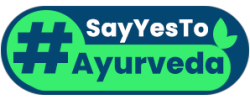 people have pledged for our initiative #SayYesToAyurveda. Do you want to know why?
According to WHO, each year about 28 lacs people die of obesity, 11.30 lacs people are affected by hypertension, more than 45 crores of people are affected by diabetes and about 1.8 crore people die of cardiac arrest. Can the numbers be reduced? Yes, they can. Ayurveda can treat and prevent these lifestyle disorders. It goes to the root of such diseases and provides a permanent solution. It supports a better lifestyle through which you can improve your overall health.

Choose to say yes to a better life and protection from innumerable diseases.
Choose to say yes to a healthier lifestyle and make good health a part of your daily routine.
AYURVEDA IS YOUR PERMANENT SOLUTION
TO GOOD HEALTH